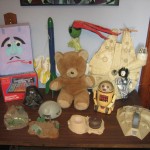 Last week it was girlie stuff, this week it's boy toys. I know this all sounds like I'm a prehistoric parent who gender-typed the toys we gave our children. Actually, it was just the opposite. We offered both genders all kinds of toys, but still they gravitated toward more traditional choices. Regardless, our oldest son who collected most of the Star Wars items in this photo gave permission to give them away – after checking whether he could get any significant money on E-Bay for the Verbot Robot

. A younger son was into making his own puppets. They're very creative but not worth saving for posterity. The science lab kit was a hard call. It's harder for me to give away things that might help a grandchild become super intelligent. The rocket was part of a rocket kit that Brian was into for awhile. I think I gave away the smaller rockets to a neighborhood boy during last spring's "Free Yard Sale" but now I don't know who it was. Alas, another child will have to enjoy this parachuting rocket. Do kids do this kind of play anymore or is it all technology based?
PS: Click on the photo to enlarge.