CURRENT POSTS ON Living Lightly AT RIGHT:
I've now returned to going through our home for a second time to see what additional things I can give away. I thought I had pruned a lot, but as I look with new eyes I continue to see many more items that I really haven't worn or used in a long time. They could be doing more good for other people NOW, than waiting around me me to use them one day, some day.
A LITTLE HISTORY FOR THE CURIOUS -
 * Starting February 2010 I decided to give away at least one item a day during Lent and then continued for a year. 
* During 2011-2012, I continued to give things away but not as often. During Lent 2012, Jim and I took the Food Stamp Challenge and ate on $4.50/day
* Starting, January 1, 2013, I decided to do a Second Time Around.  As I go on with life I continue to find things around the house that I'm surprised I didn't give away in the first purge. Thus, I've decided that with the New Year, I would go back through the rooms of our home to see what items no longer seem so essential. Since I originally started with shoes, that's where I'm resuming the pruning.
* On Ash Wednesday, Feb. 13, 2013, I interrupted my Second Time Around to start six weeks of concerted effort to create less waste. I wanted to lessen my carbon footprint by recycling and pre-cycling more. (Pre-cycling  refers especially to reducing packaging so that recycling it isn't even necessary.)
Why Lent? As I try to honor God's creation by not polluting it, I hoped this would clean my soul by a heightened awareness of what is garbage and what is not. Read my Waste-Less Lent posts at right to see what I learned.
BACKGROUND ON THE FOOD STAMP CHALLENGE
Starting Ash Wednesday, Feb. 22, 2012, Jim and I agreed to try to do the National Food Stamp Challenge for the six weeks of Lent 2012. Lent is over and we're eating more normally now but with a new consciousness. See the 18 posts under 365+#24.
Several background articles are:
You Tube video showing grocery shopping tips for the Food Stamp Challenge
Catholic Charities participation
FRAC (Food Research & Action Center) explains SNAP Food Stamp Challenges in depth
BACKGROUND ON GIVING AWAY ONE THING A DAY
As of Ash Wednesday 2011, I finished my year of giving away at least one thing a day. (I estimate that I've given away over 1,200 items during the year.) My home looks somewhat slimmer and less cluttered but I am embarrassed to think that I even had 1,200 things that I barely miss – and humbled to realize that there is still plenty to give away.
So, I have continued – both giving away and this blog. In a fit of sanity, however, I'm reducing the frequency of my blogs and photos since it was taking over my life. I am now posting at least twice a month and still welcome your comments.
FINDING WHAT YOU WANT
My Give-Aways are categorized  according to the following secret code:
Food Stamps:… refer to Food Stamp Challenge posts
365+ refers to anything I give away or think about after March 9, 2011.
Extra refers to my weekly posts of random insights about letting go of stuff and how the process changed me.
Days 41 to 365 refers to the post Lenten posts up to Ash Wednesday 2011.
Days 1 to 40 refers to Lent.
Day –24 to –1 refers to the days I spent getting ready to start in earnest on Ash Wednesday 2010.
Most recent posts are at the top. You can also browse the posts according to Categories and Tags on the bottom right. Translations are there too.
PS: I had fun making up the titles and hope the wry ones tweak your brain and give you a chuckle.
_ _ _ _ _ _ _ _ _ _ _ _ _ _ _ _ _ _ _ _ _ _ _ _ _ _ _ _ _ _ _ _ _ _ _ _ _ _ _  _ _

EASTER
Happy Easter! The 40 days have come to an end, but not this project or blog. The more I got into giving stuff away, the more I realized that these 40 days were simply the first round. Although I've given many things away, few items will I actually miss. To really stretch myself I'll need to keep pruning and developing a stronger attitude of generosity. I've decided to try giving one thing away each day for a whole year. At first this seemed daunting but then I counted 151 drawers and 228 shelves in our home. If I just selected one item a day from these drawers and shelves that would be 379 days – well over a year. Even if I don't find anything worthy of giving away from a particular shelf, I figure I've already banked 40 days. I believe that if I keep going, I'll eventually be confronted with letting go of stuff that is not just excess.
THE FUTURE: It has, however, been time consuming to keep this pace of blogging and taking a photo every day. In order not to have my life taken over by this process, I plan to only blog once a week even though I will be choosing something every day. I still welcome your feedback and reflections. I'm taking the rest of April to disperse my collected stuff to good homes and resume the blog May 1.
To make comments on this post or read previous posts click on Recent Posts at right.
_ _ _ _ _ _ _ _ _ _ _ _ _ _ _ _ _ _ _ _ _ _ _ _ _ _ _ _ _ _ _ _ _ _ _ _ _ _ _  _ _
Saving Stuff: Just In Case – The Backstory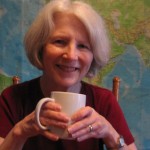 I believe that simplifying one's life can make it happier, more satisfying, and save a lot of time looking for things. That's what I believe, but I'm also a pack-rat. My approach to simplifying my life up to this point has usually taken the form of organizing my stuff better so that I don't see clutter and can find things more easily. This is good, but there is a limit to how much organizing can accomplish. Eventually the closets are packed too tight and my spiritual side calls me to a deeper level than just organizing.
I used to justify saving and organizing our family's stuff by the "JUST IN CASE" principle. When raising our four young children there was always reason to save a coat, shirt, pants, etc. for when a younger child would grow into it. I saved even less obvious items just in case it could be used as a Halloween costume. Old clothes of mine were saved just in case they would come back into style. After all, bell-bottoms reappear every 20 or so years. I'm a futurist.
I saved our kids school papers and awards just in case they would become president one day and archivists would want to dig into their past. As our children moved out on their own, I saved old but serviceable dishes and toasters just in case they needed them to furnish their first apartment. I finally faced my limit, however, when I had carefully saved maternity clothes and baby clothes, just in case a daughter or grandchild could use them. Saving the baby crib did come in handy recently to bed our first grandchild, but I'm learning that standards for cribs and strollers are changing and even these classic items may not meet the safety standards of today's conscientious parents. This is what prompted me to undertake a deliberate letting go of many of the items around my house.
If you are like me, procrastination and lack of big chunks of time keep me from downsizing in one fell swoop. (People who move often have an advantage here, since moving often forces one to prune possessions.) But I decided to embark upon a "One-A-Day" approach. Each day I would search for one thing to give away or throw away.
This is not just a practical endeavor for me, but always a spiritual one since I believe Christianity (and most world religions) calls us to share what we have and live simply so that others may simply live. Although I am not wealthy, I have more than I need. As St. Basil the Great said,
"When someone steals another's clothes we call him a thief. Should we not give the same name to one who could clothe the naked and does not? The bread in your cupboard belongs to the hungry; The coat hanging unused in your closet belongs to the person who needs it; The shoes rotting in your closet belong to the person who has no shoes; The money which you hoard up belongs to the poor.
Since Lent is also the religious season of joining with the sacrifice of Jesus, I decided that choosing one item a day for 40 days would be a manageable goal and be more useful than giving up candy. As I share how this process impacts me, I invite you to join me – not only through your words but also through your own experience of letting go in order to lead a fuller life.