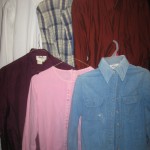 I've discovered that it's hard to pick just one category like "shirts" to get rid of. Some shirts or blouses go with particular slacks or skirts and I shouldn't decide one without knowing if I'll keep items that coordinate with it. Although I'll write about these in discrete categories, I see that clothing is like a family system. Each piece has a relationship with other pieces. No shirt is an island.
PS: In order to put some order to my choices, I've decided to go room by room starting with our bedroom. That's probably where our closet and drawers are most in need of pruning. Besides, that's where the shoes were.
PPS to Kathleen who promised to match me shirt for shirt: You only need to give away 5 shirts since one of those pictured is from our house guest who is joining in the give-away.