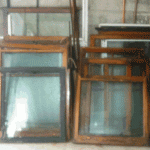 We live in an old house. We love it but part of being old means that the window were not energy efficient. We had storm windows but they were a pain to put in and out each year. We finally made the commitment to replace all of the 100+ year old windows. It took awhile and was a big investment but we're glad we did it.
Of course we then had 19 windows, storm windows, and screens to dispose of. After checking around we found an organization ReUse Centers that takes material headed for the dumpster and re-uses them to help others build homes who might not otherwise be able to afford it. The ReUse Center partners with Reset Ministries  to train individuals in repairs and by providing them with guided work experience.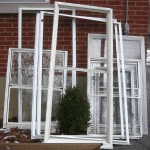 What has this taught me?
Respect for skilled labor – It takes a lot of knowledge and skill to do quality workmanship in home repair.
Patience – Most home repair takes longer than originally planned.
Sometimes you have to spend in order to save – Although it cost a lot of money which we will probably not totally recoup in our lifetime, it does save energy and lowers our heating bills.
There's a lot of good people around trying to help people get a leg up. Every city may not have a handy ReUse Center, but just the fact that a few years ago somebody saw the need to keep building supplies out of landfills, matched it with providing used but serviceable materials to builders plus a training program for the unemployed or underemployed means that people are looking for worthy things to do. Perhaps you are already involved in such an entrepreneurial project. Perhaps you're a person who has the skill and time to start one. Everybody can do something – even if it's just to identify a need and urge someone else to meet it.