Sorting through misc. stuff can be fraught with thorny decisions. True, I'm not using it now, but maybe the next time we go camping we'll want that old cook stove? Or maybe our kids will want it? Or it has sentimental value. These can be tough "first world lifestyle" decisions. But…once decided, corollary decisions arise – finding worthy homes. I don't want stuff people can use just going into the garbage and ending up in a landfill.
Fortunately our neighborhood has been blessed with a plethora of vintage, charity, and second hand shops. There are 6 shops within a short walk of my home. I spent one afternoon just exploring each of them and noting their particular focus. This past week I dug deeper into our closets and started distributing stuff. Here's the skinny on my success. (The failures will come in a future blog.)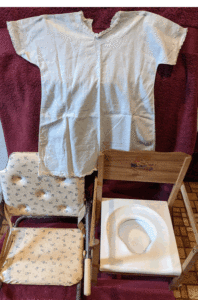 BUT, what if I don't live in greater Cincinnati, much less Susan's neighborhood? Where should I take my stuff so it does some good and doesn't do harm (such as contributing to a bigger landfill)?