December 26 is celebrated as "Boxing Day"  in some countries. The name comes from the tradition that on the day after Christmas well-to-do families would give a box of money or presents to their servants or customers.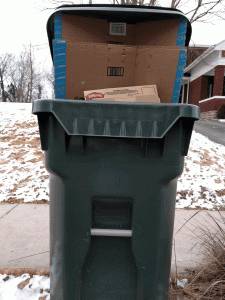 I remembered this as I was cleaning up after Christmas and was struck by the extraordinary number of cardboard boxes we had accumulated – at least 20 large boxes, mostly from Amazon. (In our family's defense, most of our children live out of town so they bought things online and had them delivered to our house before Christmas.) The good news is that cardboard boxes are easy to break down and recycle. The bad news was the embarrassment of so many presents. (Well… the bulk of them were for the grand-kids so that's somewhat defendable.) I also started wondering about the pros and cons of online shopping which requires more packaging and transportation. Here's how I'd sum it up.
In Defense of Online Shopping
It can save time – although reading the many reviews in an effort to make a wise purchase can take a lot of time too.
It saves me gas – although it shifts the gas expenditure to delivery trucks. Perhaps economy of scale can make this a plus.
Recyclable boxes – The cardboard boxes that items come in are recyclable. In fact, Amazon and Goodwill have partnered up to create a program called the Give Back Box. You fill an Amazon box with items you no longer need and Goodwill pays the shipping for your donation.
Creative Box Uses – Check out How to Reuse Boxes for DIY Home Crafts
In Defense of Buying Local:
Direct, tangible contact with the product – You can touch, try on, and examine the merchandise to make sure it's what you want.
It supports local merchants.
Pre-cycling – Buying local requires less packaging and is therefore better for the environment
Toss ups:
Saving money – Buying Online can save money by allowing comparisons and reading reviews. However, there can be shipping costs. Buying local can save money because you can see and handle what you are buying to make sure it's what you want. The base cost may be less. Often it's a toss-up.
Returns – Sometimes returns are easier online; sometimes it's easier to deal with a local merchant who wants your return business.
Seeking your experience and opinion – Online shopping is a relatively recent option in human history. I'm curious as to how each of you weigh the pros and cons when making purchases. Please comment below.
Upon reflection, this certainly comes under the category of first world debates. It's sobering to remember that some people don't have the money to pay for necessities, much less gifts, whether online or local. Some of our neighbors on planet earth are hungry, living in dangerous places, fleeing war zones, living with addictions or family violence. Some don't have the luxury to debate the best way to spend or save our discretionary money. Bottom line? Give a purchase to someone who doesn't have a choice.