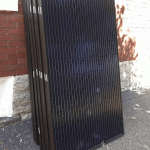 Yea! A couple days ago our new solar panels were activated. This is probably the opposite of my recent Keep it Simple post, because it wasn't a simple or cheap endeavor, but it was worth it. Over a year ago we started thinking about getting solar panels for our roof. We contacted an installer, got a bid, and then procrastinated for about 9 months until another email offer woke us up. Now we were ready and we moved expeditiously.
After confirming that our roof was in good enough shape and checking out the payback timing we decided to invest in 16 panels. It took about 2 months and a hunk of money but we considered these 4 principles:
It takes money to save money. Of course saving money over the long haul is good and applies to paying more if the higher quality product means it will last longer and be better for the environment.
Doing our part. But, the bigger motivation was that although we can't single handedly reverse global warming, we can do our part.
The multiplier principle. As more people buy into solar, the multiplier effect kicks in and makes a bigger impact on reducing greenhouse gases plus reduces the cost because of economy of scale. (Caveat: We were also lucky that we moved fast enough that we bought the panels which were manufactured in China before Trump's tariff goes into effect saving us more than $4,000.)

We're not first, but we won't be the last. As proud as I am to now be contributing to part of the solution for global climate change, I was humbled 6 months ago (January 2018) to observe that the retreat center I was staying at in Ranchi, India was powered by solar panels. Several years earlier I had visited a newly constructed school and parish in a nearby rural area of India that was completely powered by solar. Many of the smart developing countries are leap-frogging carbon based energy sources and going straight to renewables, just like they've skipped landline phone installations and adopted cell phones as their primary phones.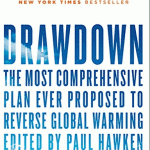 I'm happy. Our house is happy. We expect to power about 95% of our electricity needs from the sun. According to the team of scientists led by Paul Hawken, rooftop solar installation ranks #10 among the top 100 ways to reverse global warming by 2050 – Drawdown—The Most Comprehensive Plan Ever Proposed to Reverse Global Warming  (Jim and I have just finished the training to lead Drawdown workshops  Contact me if you want to learn more.)
How have you saved energy (electrical or human) through modern technology? Has it cost more to do it? How did you decide?