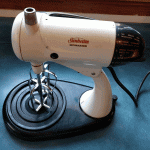 My last blog entry was on the pros & cons of online shopping and how it can save time but create unnecessary waste. Here's another conundrum for you – When does doing a small good take so much time that it's not worth it?
The culprit: a broken mixer blade
The solution: Buy a replacement blade.
The problem: It's not as quick and easy as it sounds.
The rest of the story: Last Christmas, in an effort to be a loving sister I decided to make homemade chocolate chip cookies for my out of town brother. I used a 50+ year old Sunbeam electric mixer that had been handed down to me by my mother-in-law. It had been working fine. Unfortunately, cooking is not my strength and in the process I stupidly broke one of the mixer blades. I limped along, substituting a portable mixer which was not nearly as strong. I finished the batch of cookies, mailed them, but realized it did not reflect my best work.
Since I wanted to keep the mixer and virtuously wanted to repair it rather than scrap it, I decided to do what any modern cook would do:
I spent an hour searching Amazon for a replacement beater. Having no luck there, I took the next reasonable step –
I googled "Sunbeam mixer" and found a "Live Chat." Since my internet search skills must not be much better than my cooking skills, I tried 3 times to connect with the Live Chat with no response.
I finally found a phone number for Sunbeam and after being on hold for 10 minutes learned, "If it's over 20 years old, we can't fix it, BUT we suggest you call Kiefer Appliances."
Kiefer Appliances (608) 221-3322, deserves a shout out since a live person answered the phone, told me how to find the "hidden" model number, and said he had a replacement beater in stock. I bought it for much less than a new mixer would cost.
Result: I feel good that I could save an old (and very serviceable) mixer but frustrated that it took so much time.
News Flash: Now this may be simply a longer than necessary story which does you no immediate good. So, let me share some useful news that I learned along the way that may help folks no matter what kind of repair job you are faced with. Did you know that there are "Repair Cafes?" Read this New York Times article about how beloved but broken possessions find new life.
Thoughts to ponder:
Do you have any experiences of rescuing a broken item? (Please comment below.)
How much time do you invest before calling it quits and buying something new
And the age-old, probably unanswerable question – How come they don't make things last as long as they used to (think appliances, phones, computers, etc.)?