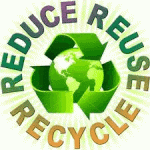 Life has been busy with little time to devote to serious possession pruning or recycling. My current volunteer priorities of environmental work and addressing the sexual abuse crisis in the Catholic Church have been time consuming. Still, I'd like to share 6 more simple life tips before we plunge into Lent next week.
Reduce Paper Towels: A few years ago I realized we had plenty of rags from old clothes that were not worthy of giving to thrift stores. With an abundance of rags, we decided to make it more difficult to use paper towels. We moved cloth towels to the the paper towel rack and moved the paper towels to an inconvenient place under the sink. Sometimes a paper towel is the best material for cleaning up, but usually a washable rag does just as well.
Keep Water Bottles Handy: Both Jim and I have water bottles but often forget to take them with us to public gatherings where too often only disposable plastic cups are available. Solution: Put 2 water bottles in the car so they are handy.
Use the Car for more than Transportation: Same as #2. We keep several reusable bags in the car for groceries and other purchases. I also recently put a collapsible plastic food container in the car glove compartment to use instead of the Styrofoam container that restaurants provide for left-overs.
Color Coding: When our kids were young to reduce how many dishes we needed to wash we assigned each of them a color. Now when the family gathers or guests visit for longer than one meal they are assigned a colored cup (or glass with a colored rubber band). They also get a unique colored or designed cloth napkin.

Take Advantage of Others: Religious or non-profit organizations make it easier. I could drive to a collection point, but our parish collects toiletries, clothes, and food, for those in need. I'm going there anyway so it's an easy conduit to get stuff to people in need.

Carry my Identity/Silverware/Tools: If you go to a lot of meetings like I do, you get a lot of disposable name tags.  With

my weakening memory, I appreciate name tags, BUT, I decided to carry a generic reusable one in my small purse. I also carry a "spork" in my purse to avoid single use plastic utensils. My unique "credit card"  includes a miniature knife, scissors, screwdriver, magnifying glass, tweezers, and pen.
Here Comes Lent: I love Lent…Well maybe it's not love but rather it's the motivation for me to look more deeply at what's important in life and what is cluttering my mind and space. Research says that it takes between 20-60 days to develop a new habit so the 40 days of Lent are well suited reviewing my life and focusing on a change of spirit and practice. Currently I'm considering:
Using more public transportation
Eating a vegetarian diet
Eliminating single use plastic
Fasting from the internet and/or Facebook for 1 day a week
No optional restaurant meals (exceptions are the Parish Fish Fry or travel)
Finding ways to interact directly with people in need
?? Please share additional ideas that you are considering