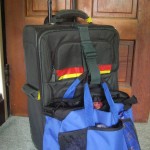 One of the things I pride myself on is traveling lightly. I usually can fly anywhere for up to two months with only a carry on (and a husband to lift things). Not only is it easier to transport luggage from place to place but it avoids lost bags and my thrifty side is happy not to pay to check a bag. I have to break some of my frugal rules and buy some small specialized items of clothing or toiletries, but it's worth it to me. Here are my top 10 travel tips that I've cultivated over the years:
Cultivate "easy hair", i.e. very short or very long
Pack for 1 week, i.e. 8 underpants/socks and several versatile outfits. (Plan to wash clothes once a week)
Ideally take everything in one carry on and a backpack/large purse.
Wear your heaviest/bulkiest items, i.e. shoes and coat
Preferably plan your trip for warm weather so you don't need heavy clothes.
Use scarves instead of heavy jewelry. They're light and can make one basic outfit look like four.
Avoid umbrellas and simply take a fold up rain hat and rainproof jacket or coat.
Color synchronize your wardrobe so most everything goes with each other.
Try to limit shoes to 2 pair: one for heavy duty walking (These are the ones to wear on the plane.) and another that are still comfortable but dressier, i.e. sandals. (Tip: Unless you can walk comfortably forever in flip-flops, it's not worth the 30 seconds you save at airport security.)
Duct tape (for fixing anything)
Now I just have to learn to let go of the pride.