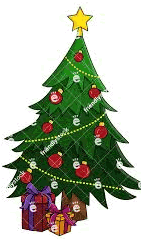 The joy of Christmas is too often accompanied by over-consumption of presents and plastics. Neither is good for the soul. Over the years I've written a number of blogs on simplifying Christmas. Click here to review some of them. This year I offer you Joshua Becker's list of How to Restore Gift Giving Sanity.
BUT, with Christmas also comes good food, often wrapped in plastic packaging and it's starting to pollute my Christmas spirit. Here's my story.
It all started a couple months ago when I learned that Whole Foods would no longer accept #1-7 plastics for recycling. That's a bummer. Our local curb side recycling accepts plastic bottles and jugs, but what about all those other plastics like the clamshells that berries and cherry tomatoes come in? What about the #5's that yogurt comes in.
I diligently started searching for alternative places to recycle these plastics and found several. (For N. KY options click here, then scroll to bottom of PACA newsletter.) However, the more I researched I realized that the reason many recyclers were no longer accepting plastics was because their previous markets (primarily China) were no longer accepting our plastic. I also learned some disturbing news about the growing recycling related pollution problems in Indonesia which continues to import our plastics for "recycling."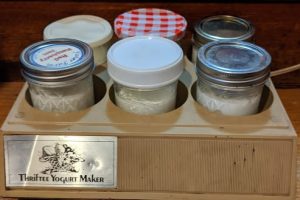 Finding alternate plastic recycling sources is only a temporary solution. I was going to have to go hard core – back to the basic recycling mantra REDUCE, reuse, recycle. But what about my beloved yogurt? I took a deep breath and decided to dig out my old yogurt maker from decades ago. Last week I made yogurt. Yea!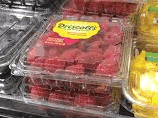 With yogurt conquered, I turned my attention to the plastic "clamshell" containers that berries and cherry tomatoes come in. In the summer I grow berries but don't get many. I'm willing to default to raisins on my cereal for the rest of the year…but my husband isn't. The jury is still out on how we will resolve this marital recycling difference. (After all he does compassionately release indoor insects to their outside homes; I just squash them.) I'm not aiming for 100% purity, but I can at least REDUCE how many clamshells come into our home. Have you found ways to reduce the use of single use plastics? Please share.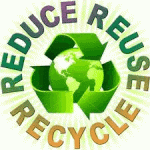 Bottom line:
RECYCLING – Good (Level 1)
REDUCE – Better  Don't buy as many products packaged in plastic. (Level 1)
MULTIPLY SOLUTIONS – Best  Go beyond individual lifestyle changes by impacting societal change.
Level 2 – Talk with friends about your lifestyle improvements.
Level 3 – Institutional change. Contact local governments, schools, churches, etc.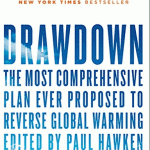 Level 4 – Go Big – Become involved in national political change.
Click here to watch Will Grant's 3 minute video describing Levels 2, 3, and 4 from the Drawdown workshops I facilitate. (If you're ready to get into serious action to reverse global warming, contact me and I'll put you in touch with a local group.)
Signs of progress: Click here to read or listen to NPR's 3 minute recent feature on the evolving natural substitutes for plastics.