I recently returned from a trip to Olympic National Park on the Pacific Ocean. I saw some big stuff like huge Douglas Fir trees and millions of small stones along the ocean. It was awe inspiring and a visual reminder of how we humans are a relatively small part of creation.
And then I returned home to catch up on work and decluttering. After the grandeur of living in nature for 10 days, I looked around our bedroom and was reminded that I still had so much little stuff around the house that I didn't need but had little time to sort through it all. I decided that rather than wallow in guilt, I would commit to a couple small steps: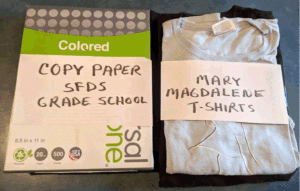 1. School supplies/clothes: Our urban parish was collecting school supplies for our school plus clothes for Mary Magdalene House, a place where homeless people can shower and get some clean clothes. It only took a moment to gather some copy paper and a couple T-shirts and take them to church the next Sunday.
2.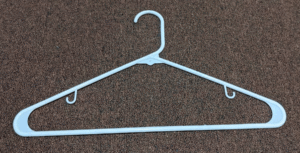 Then I had a hanger problem. Although I have plenty of things to wear, I've carefully curated my clothes closet so that I have just enough hangers for my usual wardrobe. (OK, so I can be a little obsessive compulsive.) BUT, suddenly I had a shirt to hang up and no free hanger. Had my husband "stolen" one of my hangers? No. Eventually, I decided that certainly I could let go of at least one shirt to free up a hanger. Sure, it was only one piece of clothing, but I was surprised at how I resisted the decision since each item had its purpose. One raggedy old shirt eventually volunteered itself as the victim and now my hangers again match my number of clothes.
It's a sobering thought that I didn't have enough hangers for my clothes and some people, not that far from me, don't have enough clean clothes for their bodies.
Is there a small step in your life, waiting to be taken?