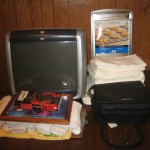 Once I diligently finished my first 365 days of give-aways, I promised myself that this would not be the end of giving stuff away. Although my pace has slowed, I notice that I am now more mindful about what accumulates around the house. BUT, I don't want to make weekly drives to Goodwill or Best Buy (to recycle electronics) because of the time and gas consumption. Taking odds and ends to our parish on Sundays is easier, but it's a hassle for them to open the "free department store" for one item. So, I've developed the following system to take care of those miscellaneous items.
I've designated one dresser top as my storage place. When it gets crowded or I'm ready to make a trip, I transport like-minded objects in one trip. I suppose there could be a problem if I ever am strong enough to give the extra dresser away, but we have lots of unused nooks in this old house. (That's how I got into storing unnecessary stuff in the first place. 🙂 )
PS: For the curious with aging eyes, my miscellaneous items included a monitor, sheets, books, kitchen supplies, and a purse.