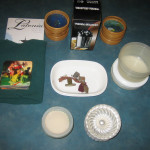 Call me compulsive, but I couldn't resist at least finishing up the drawers on our first floor. Yes, Lent is over but I knew I had a few more drawers in our hallway and living room and one kitchen cabinet that I hadn't gotten to in the past 40 days. I thought it would bring a little closure to this project to have finished the 1st and 2nd floors of our home. (This doesn't include Jim's office which is off limits for now and my office which is in the basement. Maybe later.)
WEEK 7 RESULTS:
8 Drawers reviewed. 6 had things to give away.
Give-Aways:
13 Coasters (out of 28)
8 Jello molds (We seldom make Jello… well actually never any more)
1 Pack of cup cake baking cups (ditto for cupcakes)
3 Corning trays (small and an unusual shape)
2 Plastic bowls with lids (out of 6)
1 All purpose grater (already have another)
1 Knit neck warmer
1 Water filter (that must have been hiding when I gave the rest of them away)
1 Neighborhood Directory (duplicate)
Wait:
1 biking glove
I was ready to throw this away but hubby said, he'd like to wait awhile to see if the matching glove shows up.
Throw away:
1 container of powdered instant orange drink (now hardened)
5 Clips to keep kid's mittens on (no kids anymore)
2 LEARNINGS:
1. Bringing closure
Although I still have drawers in my basement desk and my husband's office that could qualify for A-Drawer-A Day, it feels good to have finished two floors of our home. There's something to be said for a natural end point and I think I've reached it for now.
2. Slim pickings
Another sign that it's time to stop this project is that there were very few things left that were worthy of giving away.
Next blog will be a summary of what difference this has made inside and out.