OK, technically, I did finish cleaning my desk up by Easter, BUT I conveniently omitted the fact that the file cabinet next to my desk had a lot of paper clutter and odds and ends on top of it too. I had intended that to be part of my Lenten clean up but just didn't get around to it. Now I finally had some open time so I tackled it.
I found:
*cell phones & equipment (batteries, instructions, cords for old phones)
*old but usable greeting cards
*miscellaneous files (including background on a homeless couple who stayed with us 6 years ago)

*a lot of dust
It took me about 3 hours to sort through the papers but I think the research I did about what to do with unused cell phones will be more useful to you.
4 Things To Do With Old Cell Phones:
1. Re-purpose it.
Ting  offers some creative uses.
2. Give it to Charity.
Treehugger  lists a number of charities that can use cell phones.
3. Recycle it.
Best Buy was the easiest place for me. (They also take old plastic cards like credit cards.) Click here  for other possibilities.
4. Sell it.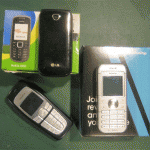 Unfortunately, with the rapid enhancements in cell phones, my older phones weren't good enough for Gazelle . CNET  gives additional ideas for getting cash for your phone. For a video about how this works, click here  (The families featured in the video haven't caught the "Living Lightly" bug yet, but at least they're not throwing their old phones in the garbage. BUT, don't be too quick to sell. Read these cautions about giving away important private info to buyers
1 Thing NOT To Do With Old Cell Phones
Throw them in the garbage. See Why.l
I still have piles of paper on our ping-pong table, aka expanded desk space, but that'll have to wait for another weekend…or another Lent.