Sometimes you're in a hurry. Sometimes you're behind. Sometimes you just don't want to take the time to figure out where to take your extra stuff. That was me last week. I was being good. I was going to a prayer service. BUT they asked folks to bring some school supplies as a goodwill offering for low income families. A nice idea, but I didn't want to take the time to go out and buy anything.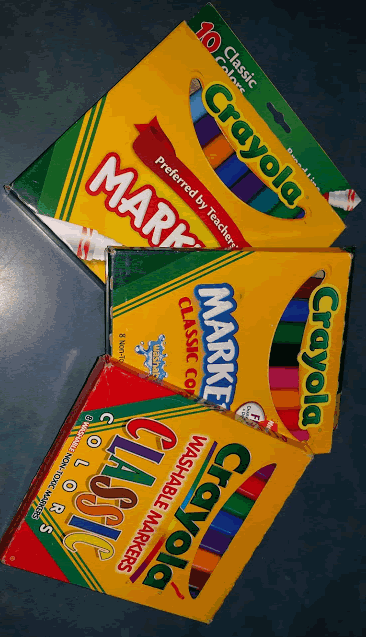 But wait! Why don't I just check our art supply drawers and office supply stockpile? Having raised four children and still having grandchildren who visit, we never purged our crayons, markers, and glue. Having gone to too many conferences (and organized some of them) we have way more folders than one family needs.
It didn't take long to find:
3 boxes of markers. (We still have 2 full boxes and about 20 loose ones.)
32 unused pencils (We still have plenty. It's the erasers that go bad.)
2 bottles of school glue
1 child's safety scissors
1 mega eraser for "Big Mistakes"
150 sheets of packaged ruled paper
66 clean colored folders (that have been used but don't look like it). This was only 1/3 of our stash.
I think these will get us in the door to the prayer service.
What's the point?
There's probably plenty of other extra paraphernalia lurking around our home that I just haven't gotten around to clearing out the "more than necessary for the grandkids" stuff. So, prayer and the Sisters of Charity did me a favor by prompting my 15 minute search and giving me a good cause to give it to. I didn't even have to make a trip to Goodwill or one of my other go to donation places.
What if you took 15 minutes today to scan your home for extra school supplies and take them to a school in need? What about extra tools, dishes, towels…Pick a category. You don't have to do a whole house purge, just perhaps a weekly or monthly review of stuff you've outgrown, or just have extra.
See Purging for a Cause #2 for another example of this.