We're 9 days into Lent (not counting Sundays) which means according to my master plan I should have spent 4 days pruning our Master Bedroom, 4 days pruning  Bedroom #2, and 1 day pruning the upstairs Bathroom. I'm one day behind (the bathroom), but who's counting. I know curious minds want to know how it's going so you can compare your progress (no matter what your Lenten resolution) to mine. Click on any photo to enlarge.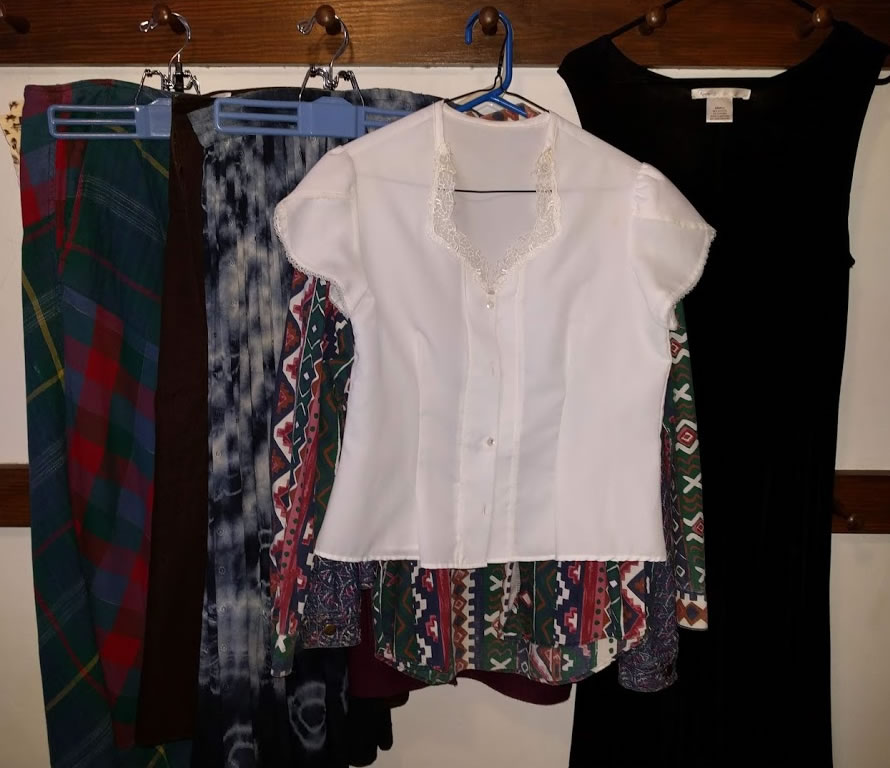 MASTER BEDROOM:
Day 1 – Closet Clothes: I read somewhere on Google that a garment goal should be to use no more than 40 hangers for my clothes. It's a totally arbitrary rule but it gave me something to shoot for since I was using 50 hangers. Since I work at home I no longer need daily outfits for an office environment. I thought it would be easy. It wasn't. I kept 3 suits, 5 dressy jackets, 9 long sleeve blouses, 2 short sleeve blouses, 2 vests, 6 skirts, 8 pants, and 5 dresses = 40.
I decided to give away: 4 long skirts, 2 blouses, 1 dressy jacket, 1 sweater, 1 dress. I relocated 1 contradance skirt to my dance clothes closet in another room. (I'll deal with that later.)
My criteria were:
• Did the tops I kept match my iconic black or blue bottoms (skirts or pants)?
• If anything needed repair, I let it go.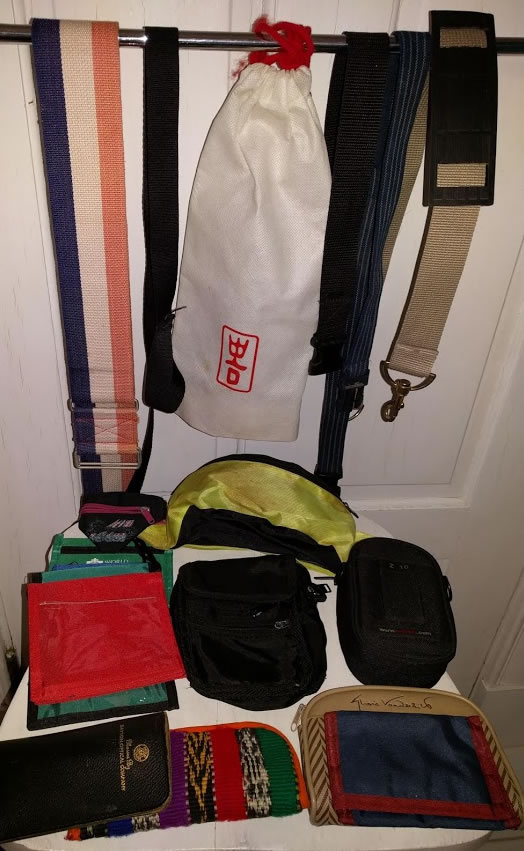 Day 2 – Closet Hooks: But what about stuff in the closet that wasn't on hangers? One surprise was how many belts I had that I no longer use. Out of 15 belts I'm giving away 8. In the belt category I'm also counting many suitcase straps and travel accessories that were hanging on hooks in the closet. My scarf organizer was getting crowded so I'm giving away 3 scarves. I also found 2 tote bags (from conferences) that I don't need and a hat that I never wear. (See below)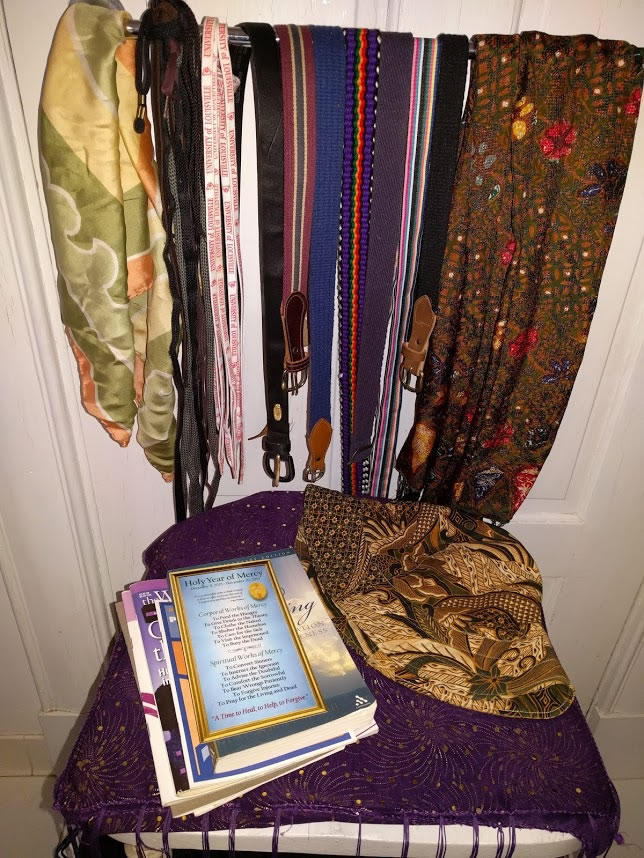 Day 3 – Shoes & Prayer: I hoped to prune my shoes from 10 to 8 but each has a different function. For those who care, I kept the following pairs: 2 winter everyday black shoes, 4 dress shoes (black or white), 1 summer sandals, 1 hiking shoes, 1 slippers, and 1 water-socks.
Since I didn't prune any footwear, I turned my attention to a little magazine rack near my prayer table. It was crowded with prayer booklets that I  figured I would read or re-read one day. One can never have enough prayer aids, right? Wrong! As meaningful as these seasonal booklets are, many no longer fit my morning meditation style. I'm passing on a third of them to inspire others.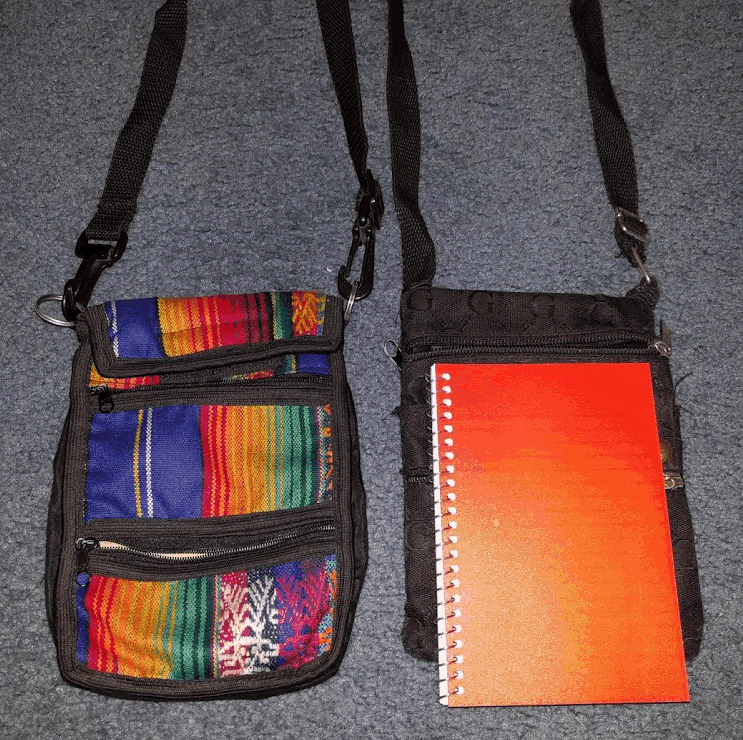 Day 4 – Misc. Drawers: Since I do a lot of travel I've collected a bunch of passport holders, mini-purses, conference name tags, and fanny packs. These are helpful but I had a lot of duplicates. After sorting through them I had a happy thought. We've invited our 10 year old niece to do an immersion program in Ecuador this summer. I let her pick one of these extra small security pouches for our trip.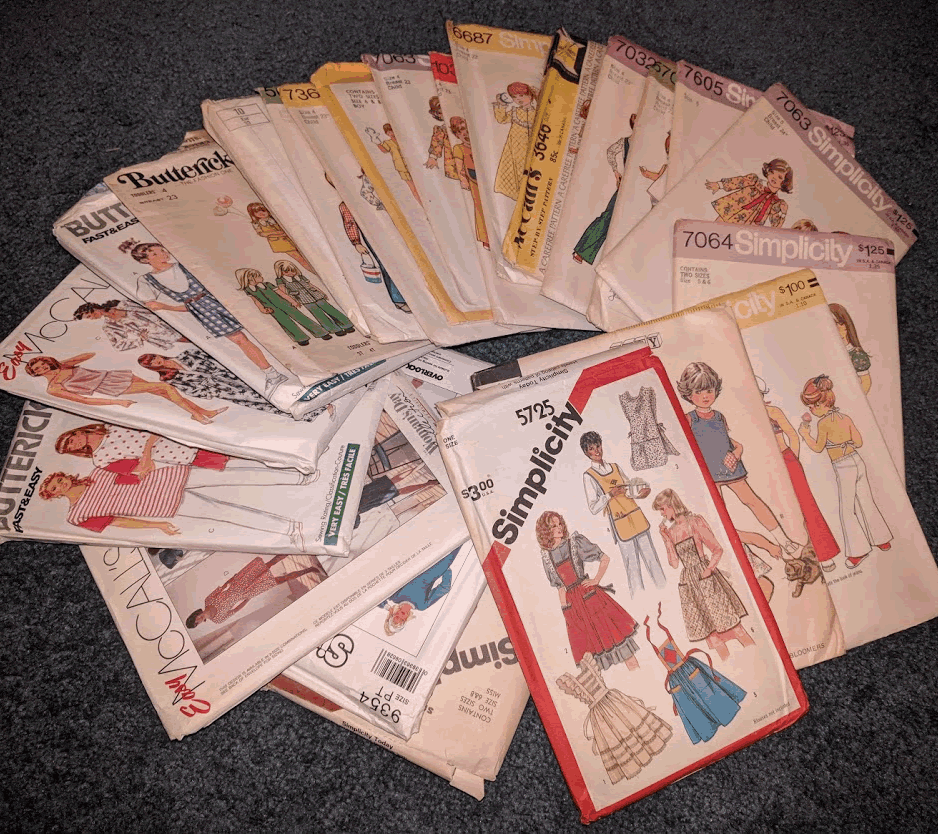 I also cleared out a drawer of patterns in my sewing desk to make room for more important memorabilia since I no longer sew as much as I used to. As luck would have it, I ran into a serious sewer when at a local fabric shop and she was happy to receive 30 of my used patterns.
BEDROOM #2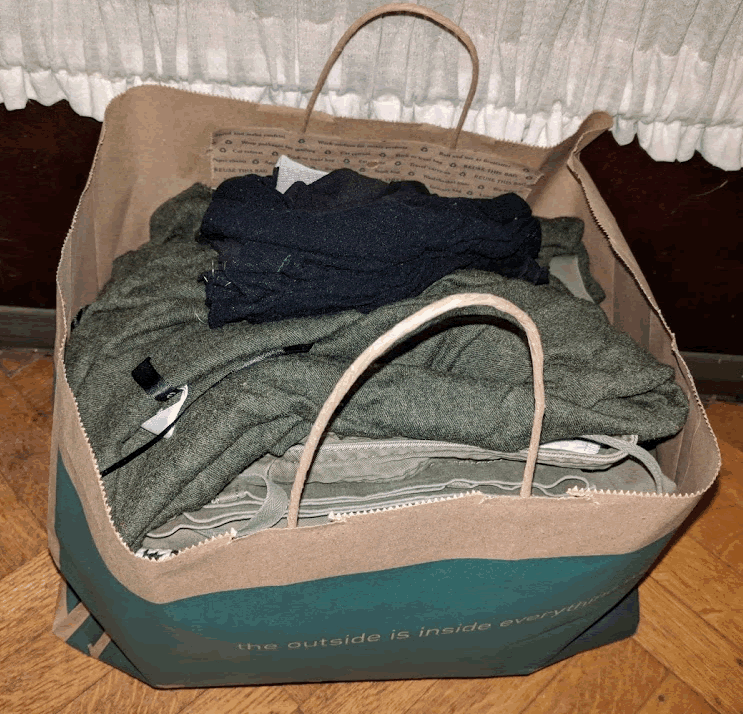 Day 5 – Boarder's Stuff: This day was easy. I checked the dresser drawers and found that a friend who stayed with us for the better part of a year had left some of her clothes. No problem, I emailed her and the next time she is in town she will pick up her bag of clothes.
I thought the rest would be easier than my own bedroom since it's a guest bedroom with almost nothing in the closet. BUT, I forgot that we also store some of our adult children's "treasures" there. The easy answer would be to just have them come get their stuff and take it to their new homes. It wasn't so easy because the one who had the most stored stuff lives in Singapore. Two live a 10 hour drive away and the last one lives in a small attic apartment.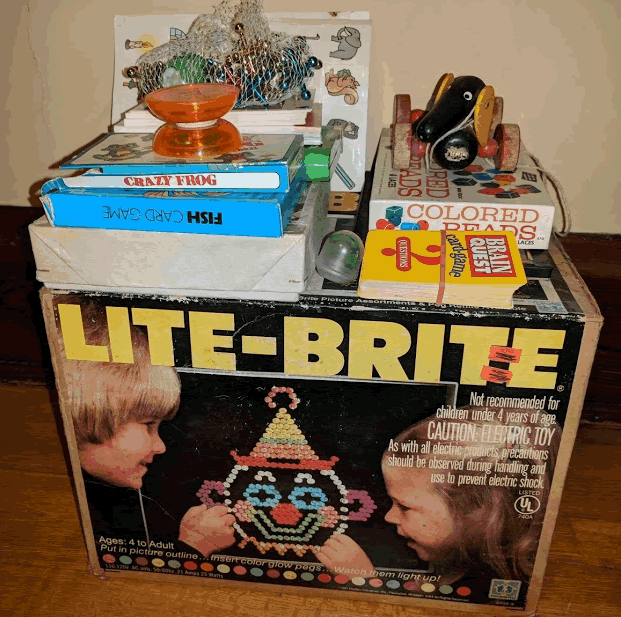 Day 6 – Kids Games: After reviewing stuff in the desk drawer I identified about 10 small children's toys and puzzle games that I thought they no longer wanted. BUT, it wasn't my stuff so I dutifully emailed them and asked if I was free to pass on these items to a worthy home or shelter. I'm waiting.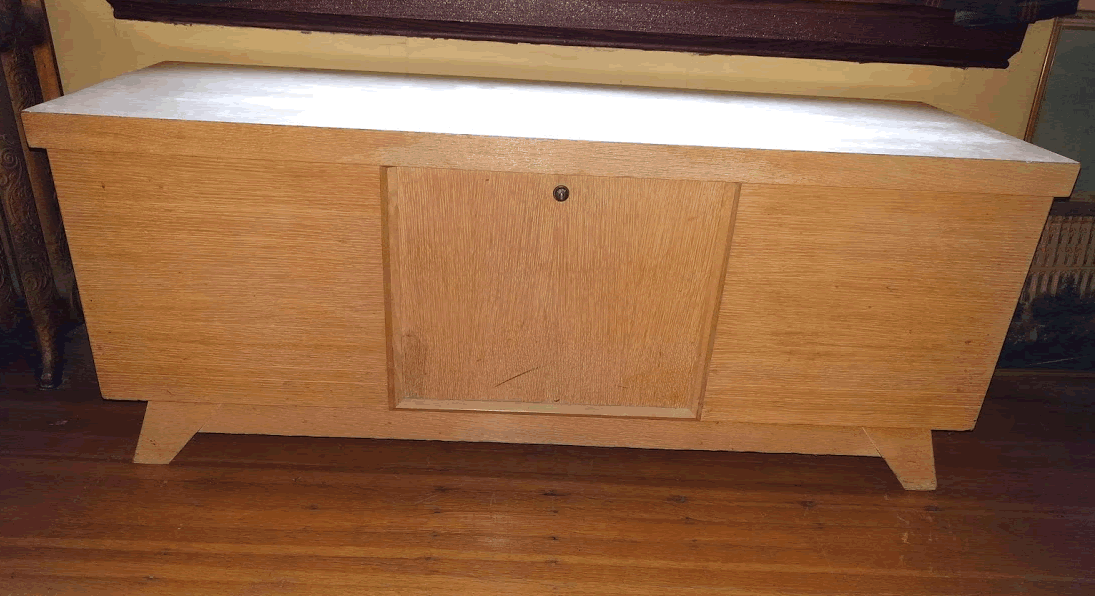 Day 7, 8, 9 – The Trunk: I hadn't looked in this trunk for years since I knew it was old memorabilia that I didn't need on a daily basis. Well, time's up. This was a challenge since it contained trophies (mine, Jim's, our kids'), ancient photo albums, old coins, and other miscellaneous mementos and letters. This project took 3 more days because it involved: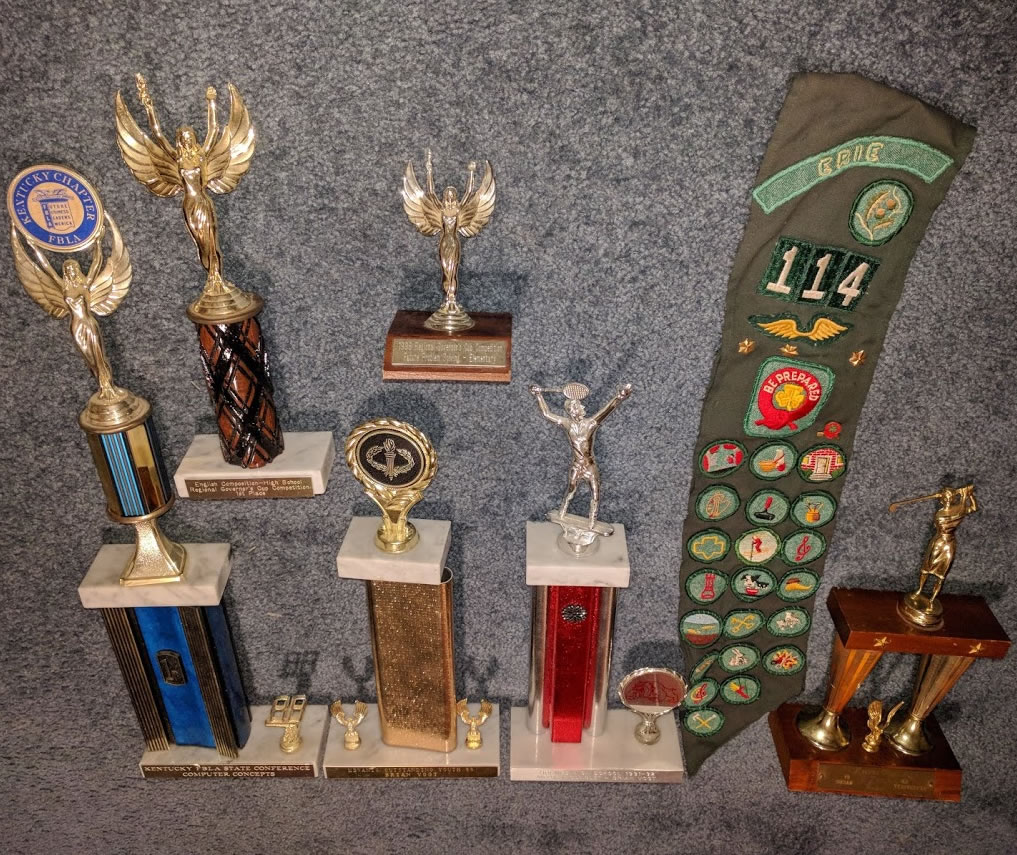 • Re-emailing kids about which trophies and diplomas they wanted to keep
• Relocating our pre-marriage love letters to a private place
• Repairing the hinged tray to make it easier to store small stuff
• Sorting through duplicate photos from our children's exchange programs with Norway, Argentina, Italy, France, Turkey…
• Sorting misc. memorabilia for all of us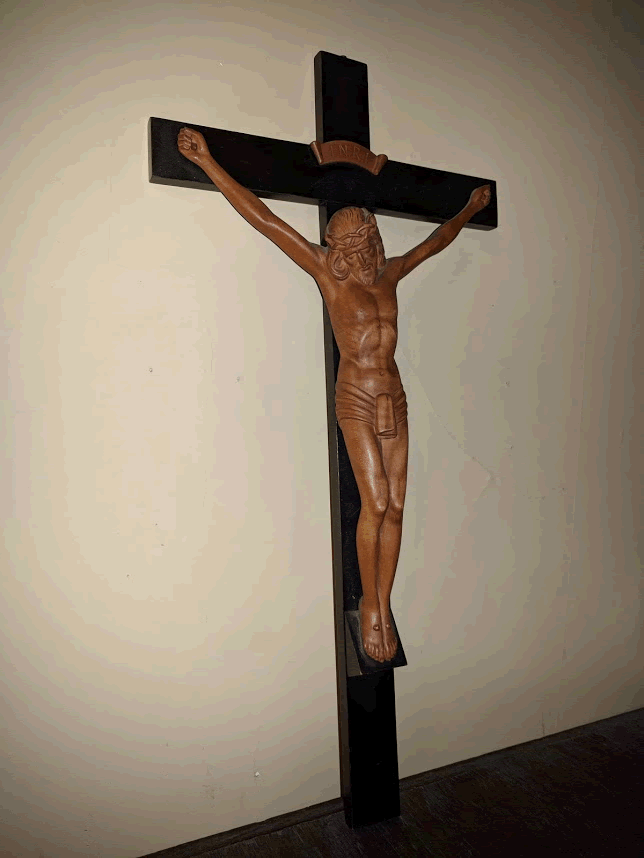 I eventually decided to give away kid games (once I get permission), my H.S. golf trophy (after taking a photo of it), and a large crucifix (since we already have one in almost every room). I relocated a formal painting of our house and rehung a large poster of Moscow from our family exchange program there. Still waiting for permission for more of the kid's memorabilia.
How is pruning the inside of your house going for you?