Another weekend, another excuse. This past weekend out of town travel kept me from continuing to clean out my desk. After returning home and doing the obligatory catch up from the meeting and addressing the coming week's priorities, I decided to attack the low hanging fruit – stuff on top of my roll-top desk. This included: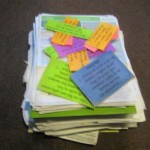 Books: I decided that only reference books deserved to be within arm's reach. Therefore, my "read sometime" books got demoted to other book shelves. This means they may never get read but at least they aren't taking up valuable real estate on my desk.
Medical Reports: We changed from Humana Medicare to Aetna Medicare on January 1. I had always been annoyed by the unnecessary paper that Humana mailed to me each month but didn't want to take the time to prune through it or call and complain. This made it easy, just pitch 4 inches of paper reports. So far Aetna has not been inundating me with superfluous paper.
107 Miscellaneous notes to self: I have a small tin that I've been keeping important and/or interesting scraps of paper in for the past 5 years. They were neat, but 107 are too many to sort through even if I could remember what I wrote. I discarded 72. Of the remaining ones, I grouped 17 into Marriage, Parenting, or Meeting ideas. I saved the essence of some of the discarded ones to computer files. Ah, this feels more manageable.
Box, Book End, and Traditional Chinese Medicine (TMC): I'm moving the box and book end to other parts of the house. I pitched the little TMC acupuncture "thingies." They were 10 years old and for back pain. I've been pain free for awhile.
3 LESSONS LEARNED:
Know thyself. Admit that I'm more of an article reader than a book reader and pass the books on.
Let go of unrealistic expectations. Although, I had hoped to not only clean out my desk this Lent but also go through my file cabinets. I've barely finished my desk and there are just 3 days to go. It's OK. Although moving can force pruning, for those of us who have lived in one place for a long time, getting rid of the accumulation can also take a long time.
Getting rid of stuff takes time but the process can be sweet. It took me about an hour to go through the 107 notes. Lest you think this was time wasted, I am pleased to report that most of the time was spent on hold with several medical providers who were trying to help me resolve an overcharge on a bill. Bottom line: Always have something to do while on hold. Checking Facebook is another use for "hold" time. On the other hand, spending some time with old inspirational notes was, well, inspirational.