My next several blog posts will cover various angles of recycling (Recycling, The Multiplier Effect, Paper Pruning, and Precycling.) Let's start with the easy one – recycling plastics. 😉 This will be a refresher for many people but I'm throwing in some trickier items for the hard core recycler.
The Usual:
Most municipal curb-side recycling programs accept plastic bottles and jugs (along with paper, glass, and metals). They make it so easy. Simply put these items in the bin or cart they provide. Most conscientious people do this. Hurrah! The challenge for many people is making it easy inside the home, i.e. designating a container to hold the recyclables till recycling day.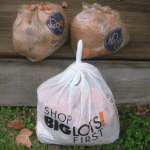 Plastic Bags:
I've known for awhile that plastic bags should not be put in curbside recycling. I didn't, however, know why. After all, aren't these all plastics? Then I took a tour of our local Rumpke recycling plant. Wow! Now I get it. Bags gum up the recycling process and nimble humans need to quickly pull the bags off the recycling lines. Most grocery stores accept plastic bags for recycling. (After all, they are the source of much of the plastic to begin with.) Even if you use paper or reusable cloth bags for groceries, you're bound to collect some plastic bags. And unless you grow all your own food, you make periodic trips to a grocery. What a deal! Just bag up the bags and take them back. Note: Although the plastic bag your newspapers come wrapped in may seem like a waste on sunny days, dog owners tell me it's handy when walking a dog. 😉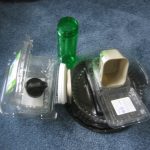 Hard Plastics that don't qualify for curb-side recycling
Many curb-side recycling companies won't take hard plastics that aren't bottles or jugs. That's because it's hard to find buyers for these plastics on a scale that allows them to make a profit. But wait, there's a solution if you make the effort. Whole Foods stores usually accept these "unacceptable" hard plastics. This includes:
#3 plastic cards (like gift cards, luggage tags, credit cards, etc. (Make sure you cut up the credit cards to protect your identity.)

#5 containers. This is part of the Gimme 5 program that even accepts #5 plastics (like hard to recycle yogurt containers). The #5 bin is usually separate from the other recycling bin, so look for it.
Whole Foods may have buyers that deal in small quantities or they may figure that getting you into the store will provide them with a profit from other things you buy
Pill Containers: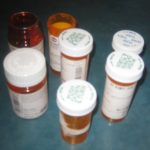 Maybe you're healthy – most of the time. But most everybody has had some of those orange plastic pill containers. What to do? Peel the labels off and send your pill bottles to an international outreach program, such as Matthew 25:Ministries or Evansburg United Methodist Church  (Cincinnati area) or Samaritan's Purse  (N.C.) Other possibilities include taking them to an animal hospital or an ASPCA near you to see if they could use some pill bottles for pet medicines. Also, reach out to your local community health center or homeless shelter to find out if they're accepting donations.