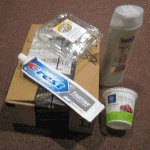 I recently ran a little contest among colleagues to find out how folks commonly or creatively tackled the environmental trio of Reduce-Reuse-Recycle. Out of 222 responses I was especially impressed with the clever, albeit human energy intensive, submission of Therese Brennan. She saves the used shampoo bottle, buys the same kind again, then pours ½ into the old bottle and adds water to both to fill. She does the same to the girl's liquid body soap. Hmmm. Takes some conscious effort but doubles the life of the product. I suppose that one could get the same result by just using less shampoo, but maybe Therese knows her family well enough to know they won't do that, or maybe we all just get into habits of using a certain dose.
Using Less Can Be Enough
This got me to thinking about what other products I could use less of and still get a satisfactory result. Toothpaste comes to mind. I notice that the ads for toothpaste show a generous glob on a full brush. Since I use an electric toothbrush, I can only fit about ¼ of the toothpaste shown in the ads and it's more than enough for a 2 minute brushing.
The Mystery of Changing Packaging
I also remembered that a number of years ago my laundry detergent increased the cup size for each load. I called to ask why. They told me they had improved the formula by adding some more powder. (I wondered about that.) Just last year I noticed that the recommended amount was decreased. The explanation was that they changed to a more efficient formula. Hmmm.
A corollary to this is that many grocery store items are starting to come in unperceptively smaller packages in order to avoid raising prices. The amount of product is smaller but you may not notice it. Yogurt, hand soap with curves in it, bottles with crescent cut outs, and thinner cereal boxes are examples. The Wall Street Journal, New York Times, AOL Finance, Consumer Reports, and Boston Globe all have reported on this phenomenon but Rick Lax's irreverent 1 minute video Why Has Nobody Noticed This??? is more fun.
Consume Less Packaging
So being savvy about deceptive packaging is a start, but the bigger issue is how to avoid undue packaging. You probably already take reusable bags to the grocery and avoid disposable water bottles, but what about the plastic clamshell packaging that many technology products come in? What about all the Amazon boxes. (Well, at least they are cardboard and can be recycled.) But I'm now trying to find the balance between over-packaging and convenience. Sure, I could swear off technology, but I'm not going to. I could only buy  local but sometimes it's quicker to just order on line. We all make trade offs. What are yours?
Pre-Cycling
This brings me to "Pre-cycling." It's a cousin to the Reduce part of our environmental trio. The idea is that if I can reduce the amount of product I need or reduce the amount of unnecessary packaging I consume, there would be less stuff to recycle post use.
The Bottom Line
This is all a matter of making thoughtful decisions about one's lifestyle and contribution to the common good of our neighbors and our planet. Sometimes the choices are easy or trivial. Sometimes they are tough or impractical. Heck I could raise my own chickens and get eggs plus organic matter for my vegetable garden – but that takes time. Besides, how much packaging does a grocery store chicken actually take? Living Lightly can be complicated.
Please share with me what you've found works for you and what compromises, successes, or failures have informed your decisions about staying sane and balanced while trying to live lightly.