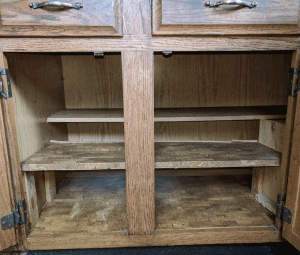 KITCHEN: I spent 5 days deciding what to keep, give away, or relocate from our kitchen, pantry, and nearby cubby holes. Some days I worked for 1 ½ hours since I had the time. Other days I did nothing because I had no discretionary time. Here are the results:
Cupboard clean-out: I took all the contents out (see right) then cleaned the cabinet, and decided what to keep. (see below)
What would you have kept or pitched?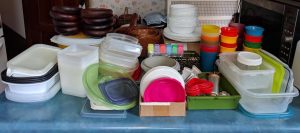 •Keep: plates, bowls, and a generous supply of containers for leftovers and storage.
•Give away: 2 extra glasses, 5 carry out containers (out of 10), 2 sandwich containers
•Recycle: 5 plastic lids that don't fit anything
2 #5 lids will go to Whole Foods
•Pitched: 4 unrecyclable lids that don't fit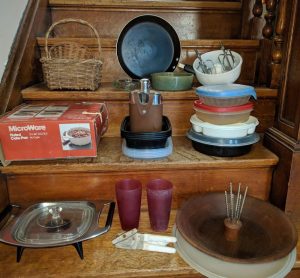 Misc. give aways tucked in corners of misc. cupboards: mixer beaters and attachments to a broken mixer, never used Bundt cake pan, decorative nut bowl, almost never used flask, 3 of 10 misc. baskets,  several misc. lids and bases that don't fit anything, duplicate size frying pan, very old can opener, 2 ash trays (We've never used the ash trays, but I suppose there was a time 30 years ago when we thought it would be hospitable to have an ashtray available if needed.)
Found: a bagel slicer that we thought had been lost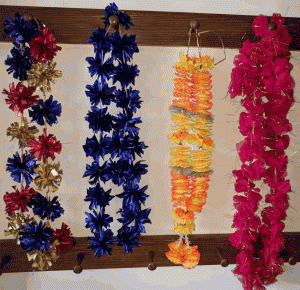 Pitched: Outdated food
Relocated:
• 4 costume leis moved to costume box
• Ice-melting compound moved to basement


• 3 kites moved to basement sports equipment
• Empty Pepsi bottle from 1989 Soviet Union trip moved to place for commemorative bottles
PANTRY: We have a large pantry for miscellaneous food staples, snacks, and cleaning supplies. I only disposed of 3 carpet cleaning supplies and a huge jug of starch. I don't know if I ever used liquid starch but it was so old it was separating.
LESSONS LEARNED:
It takes a long time to organize a kitchen. Considering how many separate small items are in a typical kitchen, it takes a while to sort and organize. Food and cooking create crumbs and scum. The cleaning process itself was worth it but took a lot of time.
How many? How many storage containers, baskets, etc. should be saved? A few are handy but there should be a limit. I usually aimed to reduce items like these by about half.
The 20/20 Rule. I wavered about whether to keep rarely used. Maybe someday I'd want to make a Bundt cake. Maybe I should keep the starch just in case some obscure repair instructions call for it someday. I finally summoned up my courage when I heard about the 20/20 Rule. If it can be replaced in under 20 minutes and costs under $20, let it go.