The 6 weeks of Lent are over but I'm not done. Despite my carefully crafted schedule and efforts to catch up at the end – life interfered. Here's the skinny on the: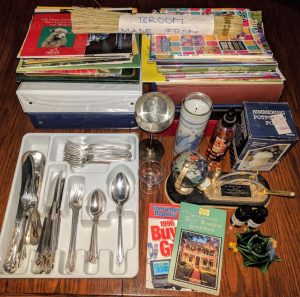 Dining Room: We have a beautiful built in china cabinet which makes it easy to store misc. dining and decorative items. It also makes it too easy to collect misc. things like candles, wrapping paper, and mementos.
Give Aways: My biggest purges were 10 empty 3 ring binders and a 48 piece flatware set, (We already had 2 sets of inherited silverware that we haven't had a party formal enough to use in a decade.) Add to this a few outdated books and mementos.
Discard: 34 of 68 catalogs some dating back to 1999. (I invoked my "discard half" rule. The reasons I kept any are too complex to go into now.)

Reorganize/Relocate – music for prayer services. (This was prompted by the disintegration of the expandable file I kept copies in. I found a new file folder but the process of sorting took 2 hours. I also relocated 4 wrapped candles to the emergency gift drawer.
Bathroom Closet: This was already pretty trim, but I did find some old hair dye and frosting supplies that I will never use again plus an unlabeled bottle that seemed to contain shampoo. Pitched all of these things.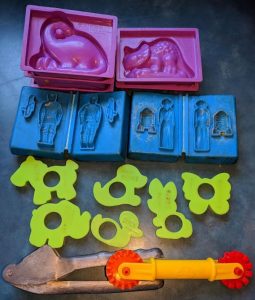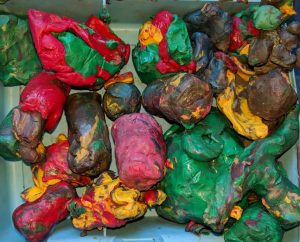 Catch-all Closet: This closet contained some kid toys and garden supplies.
Useless: Hardened clay. It makes a pretty photo but the clay was hard as a rock.
Give Away: However, the molds that our kids used for the clay are still good. Now I have to find some good kids to bequeath the molds to.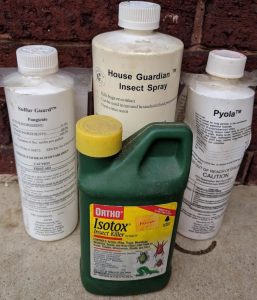 Discard Safely: I was chastised to find too many insecticides that I haven't used in years and that I now try to avoid using. Finding a place that takes hazardous household waste took most of my time. Most communities have a once or twice a year round up time for citizens to dispose of hazardous waste but that's 7 months away. After much internet searching I found that Hamilton County (Cincinnati) takes hazardous waste once a week. Now I have to impose on a friend in Cincinnati to take these items for me.
Semi-Conclusion: So I have spent time reviewing what to keep and what to get rid of on the main floor and upstairs of our house. I humbly conclude that this work is by no means finished, but I've been learning a lot about my attitudes toward possessions  and letting go of stuff in the process. I still have the basement and garage to go and those are gigantic spaces with many decisions looming, but not for today.
I will write a separate post soon about the lessons I've learned from this Lenten project. Then I will continue into the underworld (our basement) and the outside world (our garage).