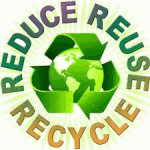 Recycling is virtuous. Most of us at least make an effort to do the right thing. We probably put out stuff for curbside recycling pickups. We may carry a reusable water bottle and take cloth bags to the grocery. BUT, what about when it gets more complicated and time consuming? Here's my recent story.
FAILING:
It all started with a basement leak that dampened some important papers because they were stored in a cardboard box on the floor.
TRYING:
Solution: Let the papers dry out and find a plastic crate to put them in. Done!
BUT, the most available plastic crate was full of old tennis shoes waiting to be recycled. Good.
I figured this would motivate me to take the shoes to recycle at the Nike outlet I've used before. Yes, it was a 45 minute drive, but once every couple years is worth it. So, I called the outlet and found they no longer accepted used athletic shoes. FAILED. Click here for other ideas.
TRYING AGAIN:
No problem, I'll just send them to Soles for Souls which uses them to provide shoes and jobs for people in poor countries. BUT, I noticed that the donate form specified "gently used" shoes. Hmm. If mine were gently used, I'd still be wearing them. So, I figured maybe they'd look closer to gently used if I cleaned them up some.
PARTIAL FAILURE:
After an hour of cleaning one shoe, inside and out, I realized this was not going to be enough.
I chose the 3 best looking pairs (I even bought new shoe laces for one pair.) and discarded the other 2 pairs. I boxed them up and took them to the nearest UPS store for free shipping through Zappos. It proved the maxim, "If at first you don't succeed, try, try, again."
PARTIAL SUCCESS:
It took time. It wasn't a complete success. But it was done and my plastic crate was now available to store the papers. Enough virtue for one day.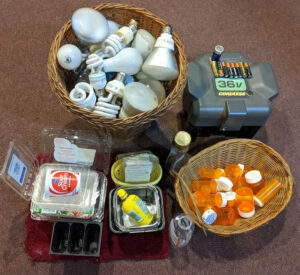 LUCK:
But, as luck would have it, I got an email from a friend alerting our environmental group to an upcoming event for difficult-to-recycle items. They accepted #5 plastics, light bulbs, empty Rx bottles, batteries, and more. Hmm, I've been saving many of these items for our semi-annual County hazardous waste day but the Spring one had been cancelled. I was in recycling mode and I had the afternoon free, so I carted a bunch of things out of the house and freed up a couple more containers – for awhile.
What's your story of a recycling failure or hard earned success? What helped your succeed?