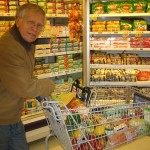 Week 1 Grocery Shopping: Well, today Jim and I went grocery shopping with the goal of buying one week's worth of food for $63 ($4.50/day for each of us for a week). Our self-inflicted Food Stamp Challenge starts Wednesday. Our total bill was only $ .81 over the limit but we took a few liberties with the process. For example:
Since both of us work at home and eat almost the same breakfast and lunch every day (homemade granola, milk, and OJ for breakfast and a sandwich and apple for lunch for me and something roughly equivalent for Jim) I figured out how much this would cost for 6 weeks so I could buy and prepare the granola in bulk. (Store bought granola would not be nearly as good and cost a lot more.) I, therefore, calculated that each of us spends about $2/day for these two meals meaning that we together spend $28 for breakfasts and lunches in a week (plus treats).
That leaves $35 to spend for a week's dinner for two. We aren't fancy eaters but we picked some of our cheapest meals for this week:
Wednesday: macaroni & cheese, carrots, tossed salad
Thursday: chicken stir-fry, rice, beets, applesauce (homemade)
Friday: soup (probably vegetable), bread, asparagus, tossed salad
Saturday: Omelets with bits of ham in it, muffins, carrots, applesauce (left over)
Sunday:  Left-over chicken-stir-fry, rice, beets, tossed salad
Monday: Spaghetti with sausage, garlic bread, broccoli, tossed salad
Tuesday: Broccoli sandwiches, carrots, tossed salad
We bought some things in bulk that will last more than one week (because it was cheaper per meal) and calculated the price of some ingredients that we already had at home. (The per serving price of these was also less than buying just one serving of rice or spaghetti noodles. Since Food Stamps are received in monthly intervals, buying some things that would last a month or more seemed legit.
We used our Kroger Plus card and several coupons which totaled $11.64 in discounts.
We're not counting miscellaneous staples that we have around the house anyway like, spices, condiments, oil, sugar.
Some cost saving decisions we wrestled with at the store were:
Do we buy the bigger, cheaper garlic bread or just the size we need which is more nutritious?
We usually buy organic bananas and eggs. This time we didn't.
We totally skipped the snack, dessert, and frozen food aisles. (Normally we would buy desserts but fortunately 😕 we're not eating desserts during Lent. Arrgh, this is going to be hard!)
We bought a head of iceberg lettuce instead of the mixed organic greens that we often buy. (Later Jim went back and got some since it looked like we were a little under our limit.)
Decided not to buy couscous since it was a whopping $7.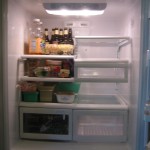 We didn't count toilet paper, bandages, etc. since those items wouldn't be covered by food stamps anyway. We also realized that we saved money by buying in larger quantities (to be saved and pro-rated over the month. We needed the up front money to take advantage of buying in bulk.) I cleared out the right side of our refrigerator for this week's groceries. I guess we'll feast on the left side today since it's Mardi Gras.