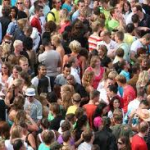 That is – too many people for one person to take care of. Our planet has about 7 billion people – all of them valuable human beings who deserve a decent life. I don't have to listen to the news for long or simply look around my neighborhood to realize that many people need help. There's poverty, illness, natural disasters, war… People are suffering and I want to help. Questions that arise in my heart are:
How does a conscientious person respond?
How many people can I help and keep my own sanity?
Where do I draw the line?
These questions occur to me partly because I've recently been asked to lead a workshop on Life Balance and another on Taming Time. This requires me to look at my own life and assess how I'm doing myself. Here's what I observed during the last month:
I'm coordinating hosting a Korean woman for 3 months,
She (Kyung Nam) only stayed at our home for about a week of this time since last week we also started hosting two Korean teenagers for 3 months. Of course this means planning activities, and relationship time.
Meanwhile I traveled to visit my aging parents (aged 87 & 94) as they need more help and there are complicated health, housing and family relationship issues to deal with. Of course I like seeing them too.
At the same time I got a call from one of my "sub hosts" saying the Korean woman needed a ride to Dayton (an hour's drive) to help her daughter who is having a hard time adjusting. I decided not to do the chauffeuring but at least to make some phone calls and send out some emails to people in Dayton who could help her daughter connect with local friends.
My brother is looking for work after being out of the country for 3 yrs. Can I research some ESL programs that he could teach? Possibly house him while he looks for a job?
We MUST, absolutely must, visit our grandchildren in DC for the Baptism of the youngest this weekend. Of course we will also be delighted to see our son and daughter-in-law. Since the Korean teens will be with us, we'll also do some sightseeing and help with meals.
Meanwhile, I want to be attentive to my local faith community's growth, spiritual life, and social justice projects.
I want to pay attention to Church and National politics which I care about. The latest issue is how to support the nuns. How many petitions can I sign, vigils can I go to, emails can I read asking for donations and time, how many doors can I knock on?
I need to plunge into writing my book Living Lightly and several other writing deadlines
I want to be present to our daughter who will soon be visiting from Afghanistan for a week
Oh, oh, just got a couple emails about following up on connecting with national and international Boards I'm on. (Conference calls allow us to reach out to people beyond our physical locale but they also raise expectations about how many people we need to serve.
Of course there's the economic necessity of making a living. Fortunately Jim currently has the more stable income, but I still have my freelance speaking and writing to squeeze between family, faith, health, and solving the world's problems.
Balance means having some fun too – like contra dancing, tending the garden, and walking (although sometimes I consider the latter a chore.)
Oh yes, I'm married and don't want to neglect my honey. We want to spend some face time together.
It's fine if you just skimmed the list above because what I need to balance is not the point.  Your list will be different, but most people I know of good will, really want to help those in need around them and even far away. The problem is where to draw the line? It's trite, but WWJD? How do you evaluate who to pay attention to and who to let go of – at least for now – even though all are worthy
For me, I try to put family and those physically close to me first, but sometimes they take a back seat to other people who urgently need my help – at least for a short time. Let me know how you prioritize. Those workshops are looming.
PS: This post is later than my self imposed 1st and 15th of the month schedule for obvious reason.