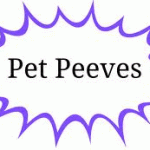 A few of my pet peeves are:
Unnecessary use of bottled water
Over packaging
Radio interviewees who respond to the host's "Thank you" with "Thank you" instead of "You're welcome."
Dragged music at church
Singing Happy Birthday to an individual in a large random group of people. (Although this probably sounds petty of me, I can't help but think that the odds of someone else having the same birthday (and thus being slighted) are high. (The odds of any 2 people having the same birthday in a group of 23 are 50/50. http://www.npr.org/templates/story/story.php?storyId=4542341
Biggest Pet Peeve:

BUT, my biggest, recent pet peeve is the planned obsolescence of what used to be the standard size mattress. Jim and I have had a standard mattress since our wedding 40+ years ago. It still works fine. A few of our fitted sheets, however, are worn and need replacing. As I shopped for a replacement set I found that most stores now only sell sheets for the extra deep mattresses (15" pockets) My opinion is that the change to deeper mattresses has nothing to do with more comfort but with creating an artificial need for new, more plush looking bed and all the new bedding that must be bought to go with it. I admit there is a certain charm to the look of these higher beds (sort of a romantic throwback to Victorian times) BUT they are not practical for me. I can't sit on a high bed to take my shoes off and for some I need a stool to climb into bed. Short people unite for lower beds!
This is annoying and a pet peeve because now I can't find fitted sheets that fit without buying a new mattress. (Maybe I should adopt the Asian custom of simply sleeping on a pad. They look rested.)
What to do?
Search the internet of course. Here's what I found. With the exception of buying expensive, made to order sheets, the most common solution offered was to buy elastic straps to hold the sheets on. One brand is Grippit. Often they are called "sheet suspenders." I suppose these will tighten the larger sheets to make them fit more snuggly but their primary audience is people who have the deeper mattresses whose old sheets slip off because they're now too small.
Best solution:
One search suggested a classic and ironic solution – Go to thrift stores or ask older relatives if they have any extra sheets. When the early adopters went to the higher mattresses, their sheets often went to Goodwill. I did that and found one set. I then found another through an older friend who got them at an auction. Hmmm, not a quick, buy it online solution.
Back to pet peeves:
Still, the original question remains. Should I just let go of my pet peeves and the annoyances that I carry with me? Wouldn't this lighten my mind and my life? It depends on whether the pet peeve leads me to take action to right a wrong; or if it's simply a personal preference. Bottled water and over-packaging are causes worth fighting for. I'll keep them. "You're welcome." and singing Happy Birthday are probably not hurting anyone. I'll let go of them. I've already talked with our music director about dragging the music and I think it's getting better. So there!
PS: Now don't get me started on all those decorative pillows that one has to toss on the floor before getting into bed.