Now we move to the kitchen which is primarily my husband-the-cook's domain so I carefully checked potential give-aways with him. The drawers contained the usual kitchen stuff that is found around the sink, dishwasher and stove (utensils, silverware, dishwashing supplies, baking supplies and dishes, and miscellaneous stuff.
WEEK 5 RESULTS:
10  Drawers* reviewed (2 of which were cabinet shelves, but they function as big drawers)
7  Drawers and shelves had things to Give Away or Throw Away
*Again I decided that I would define cabinet shelves as drawers.
Give-Aways:
2 large kitchen knives (out of 4)

2 small knives (out of 8)

1 large wooden spoon (out of 2)

1 baster (out of 3)

2 sippy cup lids (out of 4)

3 baby spoons/forks (out of 6)

3 mismatched forks and spoons

1 pizza cutter (out of 2)

a few twist-ties that didn't fit (out of gobs of them)

1 corkscrew (out of 3)

2 disposal fix it wrenches (out of 3)

3 cookie cutters (out of 13)

1 Corning baking dish (out of 7)

1 pie dish (out of 4)
1 lid that didn't fit any of our baking dishes

Fondue set (It was a 1972 wedding gift and lovely but seldom used.)

4 water filters (left from a long term house guest who was sensitive to the taste of Covington water)
There wasn't much to throw away or put in a wait pile. Most of the items we use frequently. We did keep a couple cake pans even though we don't make many cakes (We're a pie family.) because there just might come a time when a cake is called for.
5 MUSINGS:
1.  Does It Count?
Does cleaning a drawer count even if I don't give anything away? I decided only to count drawers that had items to give away. (For example, I didn't count the oven drawer.) BUT, the cleaner drawers did make my husband-the-cook happy and that counts for something.
2.  Paper Towels vs. Rags
Does using paper towels (because I didn't want to dirty my rags and then have to wash them) cancel out any cleaning virtue. Probably. In hindsight I could have easily used some of the many rags I've collected over the years. It's just one load of wash. Next time…
3.  One Out – One In
I found 2 old roach traps and replaced them with 2 new ones. It's a zero sum game.
4.  (Out Of x)
I started to notice a pattern in my Give-Aways. Most of them were followed by (out of x). The Fondue set and water filters were the only things that were not duplicates. Now certainly a family needs more than 1 fork, spoon, knife, plate, etc., but it's sobering for me to notice that we had 3 corkscrews for wine when one would do. We had 4 sippy cup lids and no children at home. Even accounting for our 2 grandchildren, they can only drink from one cup at a time. We had 7 Corning baking dishes – mostly of different sizes, so we gave away one? I feel embarrassed to even admit that I am still such a saver that I wasn't ready to part with more. That "Someday we'll be looking for just the right size Corning dish" mentality is hard to shake. But then came another sobering experience. Read on.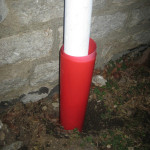 5.  The Virtue of Procrastination
People often ask me if I've ever regretted giving something away. Not yet. Last week, however, we again got a leak in our basement and traced it to a downspout that broke off near the ground. After searching around the house for something we could rig up Rube Goldberg style to temporarily guide the rain water into the correct pipe, we settled on an old red piece of plastic that we found in the garage. In its former life it was a rudimentary toboggan. It doesn't snow much in Kentucky and it has probably been at least 15 years since anyone in our family used this toboggan but it was perfect. We rolled it up tight to fit around the drain spout and it's working well as a temporary fix. I couldn't help thinking, however, that if my second round of purging had gotten to the garage sooner that we wouldn't have had this tool. Sometimes having some old "useless" stuff hanging around the house can be useful.