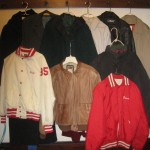 I counted 29 coats/jackets in our house. It's December. It's cold (10-20 degrees F). It's embarrassing to think that a household of two people have 29 coats when some people are on the streets shivering. Some might call it sinful. I was planning to give away miscellaneous items this week but coats seem more urgent. I remembered St. Basil's words,
"The coat hanging unused in your closet belongs to the person who needs it."
What am I doing with all these extra coats! First, I have to decide what is extra. To the purist I suppose anything more than one is extra. Christ challenges us to even give the one I have to someone in need. I'm not a purist, nor yet a saint, so my first step is to figure out criteria for what to keep. Here's what I came up with:
1 warm winter coat
1 warm winter jacket
1 raincoat with a removable liner that is warm but not enough for really cold days
1 Spring/Fall jacket
1 work/garden jacket
1 windbreaker
I think having coats for different seasons and degrees of formality is justifiable. My husband also went through his coats with the same criteria so we now have 6 coats/jackets for each of us (plus one pretty suede coat that I hardly ever wear but it goes with a suit I have). That leaves 16 coats. Many of them belong to our far flung kids who might come home from an equatorial zone at Christmas and need a coat. OK, I'll save several for such circumstances. That left 12 coats/jackets to give away – some mine, some Jim's, some donated by our kids. Don't call me St. Basil, but,  Ahhh… I feel a little better now. It's a start.