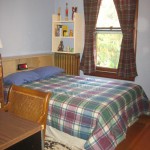 We've had a lot of company since our homeless family moved out a couple months ago. Fortunately, the father now has a job so they can afford a small apartment but that's a story for another blog.
Today I'm reflecting on the one semi-permanent house guest, three Mexican visitors, three Danish teachers, and three contra dancers who have stayed in our house over the past three weeks. I guess three's the charm. They weren't all here at the same time, but it meant a lot of switching beds and washing sheets. (The dance gypsies were gracious enough to bring their own bedding so they were low maintenance.)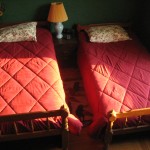 Giving away space to travelers is one of the easier and more pleasant parts of hospitality and I won't even count it as giving something away since I love the conversation, new ideas, and life they bring to our empty-nest house. It might not be everyone's cup of tea but it fits our lifestyle right now. Is company a blessing or a burden in your home?