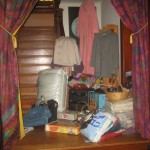 One of the things I've learned about letting go of stuff over the past 1½ years is that choosing what to give away is easier than figuring out how to give it away. Knowing who or where to take it to, carting it there or waiting for someone to pick it up, or repairing/recycling is often the bigger challenge. Although I've covered this topic in previous blogs, I still keep finding new sources and related articles.
Thinking that anyone attempting to prune their possessions would appreciate help, I'm passing on my most recent finds:
PS: To easily find previous blogs related to where to take stuff, see Days –8, –7 (the Basics), 85-91 (FreeCycle), Extra 294-295 (Uses for Useless Stuff), 309-322 (Books), 323-329 (Electronics), and anything tagged Recycling.