IT HELPS TO BE CONNECTED. By this I mean that sometimes giving stuff to the usual places (Goodwill, St. Vincent de Paul, Salvation Army, Lupus, Viet Vets – GSVPSALVV for short 😉 ) seems like a bad match. It helps to have personal links to potential "good homes." For example: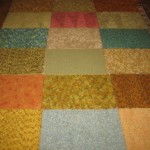 Challenge #1 – Carpet Samples. Several decades ago I collected about 20 carpet samples. They worked well as a temporary carpet for an attic room. Eventually we got real carpeting and then used them as mats for small children. (They helped define their sitting space.). For about 20 years they've been just gathering dust. Then, hurrah, a need arose! Our Children's Ministry at church was looking for alternative seating for the kids. Voila! – the carpet samples. I vacuumed them and took them to church.
Challenge #2 – Bling. I go to a lot of meetings. Often I get bling in the form of little trinkets like magnets, key chains, pens. There are only so many pens or key chains I need so I have developed what I call the "Trinket Basket." This is handy for visiting kids to go through and move some of the "clutter" from my house to theirs. The parents have not yet complained, perhaps because a new bling feels like a treasure to a young child and can amuse them for awhile – until they pass it on or lose it.
Challenge #3 – Specialized Bling. Since many of these meetings are with religious groups, however, the give aways tend to be pretty specific to the religious order I'm connected with (holy cards, medals, pins, etc.) These aren't really kid friendly trinkets but I hadn't found anyone who wanted 50 Fr. Chaminade medals or holy cards…until I talked with some teachers, many at a local Marianist school. Aha! They could use them in religion class to teach about the Marianist heritage. The rosaries went to another Marianist group. It's a small thing, but it's nice to know they have a second life somewhere.
Challenge #4 – Sheets & Towels. When helping to clean out my mother's home after her death, I  noticed many extra sheets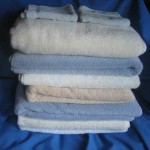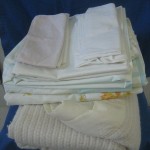 and towels. Now these are items that are usually easy to take to the usual GSVPSALVV places, BUT, I had a better plan. Because I volunteer with our local Catholic Worker House and also a place called Mary Magdalene House (which provides showers and washes clothes for homeless people), I personally knew places that could use bedding and towels. Giving stuff away should not solely be for the purpose of self-satisfaction, but it's nice when there's a personal connection.
The point? Be alert for good homes that you are already connected with such as:
Church programs
Schools, teachers
Neighborhood children
Scout troops
Organizations that serve the poor. Of course this assumes that you make rubbing shoulders with those in need part of your ordinary life so you can see the need.