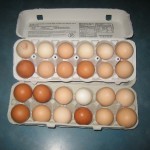 As you know, I've been feeling a little guilty about not buying organic, cage free eggs during this Food Stamp Challenge since they cost more. Sometimes things work out in uncanny ways though. It just happened that one of our guests this weekend brought two dozen organic, cage free, local eggs as a hostess gift. Hurrah! At least some chickens are now freed.
We also got an assortment of snacks including chocolates, canned oysters, and fruit. Our guests were all from out of town and I don't think any of them knew we were doing the Food Stamp Challenge. I thought we were the ones extending hospitality and here we've received so much – at least our little group of 12 dancers have been well fed. Even though I'm not eating desserts as part of this challenge during Lent, it would seem downright ungrateful not to indulge in eating the gifts, right? 😕
This not only makes me grateful for thoughtful friends, but reminds me of the social capital that we benefit from when the people we socialize with have the ability to help out feeding a crowd. Not everyone has that.