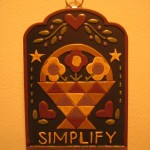 Although I try to reserve the 4 weeks leading up to Christmas as an Advent time of preparation and waiting, I know the rest of the world considers this the "Christmas shopping season." I will spare you my rant about over-consuming at Christmas since you can read my spiritual and practical philosophy on the Advent/Christmas season on my website. Since "Black Friday" is this Friday, however, following are my best tips for keeping the time between Thanksgiving and Christmas sane.
Be counter-cultural: Don't be a slave to the culture, advertisers, or expectations of others.
Gift giving: Generosity is a virtue. BUT, do not confuse buying gifts with a measure of your love. Reduce the # of gifts by drawing names and minimizing obligation gifts. Reduce the cost by setting a dollar limit and giving services or other creative ideas.
Cleaning: Reduce the need to clean by using low lighting. Besides candles are compatible with an Advent ambiance.
Cooking: Baking is nice as a substitute for store bought gifts, but not a measure of your holiness. Only do it if you truly enjoy it.
Decorations: Cultivate elegance not clutter by decorating simply and gradually. Consider "Christmas physics" –  what goes up must come down.
Cards: If you enjoy writing a family letter, fine. If it's just a burdensome obligation, you are hereby released. A family update letter doesn't have to be at Christmas. Email counts.
Prayer & Service: Both will keep you more balanced and happy than buying more.
PS: Last Sunday's roll-away bed has been claimed by the Covington Cold Shelter. Hurray!
PPS: Want a "Green Christmas?" Consider these ideas in US Catholic.