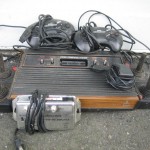 …a smell. While I was perusing the garage for things I could give away I couldn't help noticing a foul odor. At first I thought it was an old bag of ammonium nitrate fertilizer. We hadn't used it in years but I was afraid to put it in the garbage since it might be classified as a hazardous material. Now that's a problem because it took me an hour of googling and several phone calls to our garbage company to verify that it was safe to throw away. Unfortunately, the smell remained so I searched for other sources.
Maybe it's all that kitty litter that I had saved to stabilize the luminaria candles? Hmmm, that made sense since we have some stray cats in the neighborhood and maybe they found a new place to pee. Got rid of the kitty litter, the candles, and the luminaria bags – just in case. A few days later I still noticed "the stink." No skunks around that I know of, but lots of other old debris in the garage. Maybe the cats, being deprived of their handy kitty litter, decided to pee in the five planters of dirt I had stored in the garage. So, I emptied the dirt into a shallow part of our yard. The stink continued. I finally scraped off the old hornet nests, climbed up to check the rafters for dead animals, swept the floor, and cleared out more dirt and debris. Nothing was left that a cat could possibly care to sit on. I also found an old can of spray that repels cats and dogs from the garden and sprayed everything. This whole process took a couple days and I have no photo to show for it! Everything was thrown away and too ugly to photograph.
I had, however, stored an old Atari set (which originally belonged to our now 36 year old son) in the garage. He agreed I could give it away since it may no longer work anyway. Well, at least I have a photo. Does anybody want an Atari set? I believe he played Pong on it. 😕
PS: The Atari is going, but not the smell.